We're delighted to launch the Final Programme for the 5th Healthy City Design 2021 International Congress, which will take place on 11-14 October 2021 in a 'virtual' setting across different time zones. Attendee registration is currently open.
Register and visit the virtual event here.
The coronavirus crisis has shone a harsh light over the urban landscape, revealing the deep scars of health and social inequalities as some citizens fared far worse than others. And extreme weather events are becoming the norm, placing cities around the world on the frontline of the debate about sustainable futures. Indeed, the stark warning from the Intergovernmental Panel on Climate Change makes clear that for cities, some aspects of climate change may be amplified, including heat, flooding from heavy precipitation events, and sea level rise in coastal regions.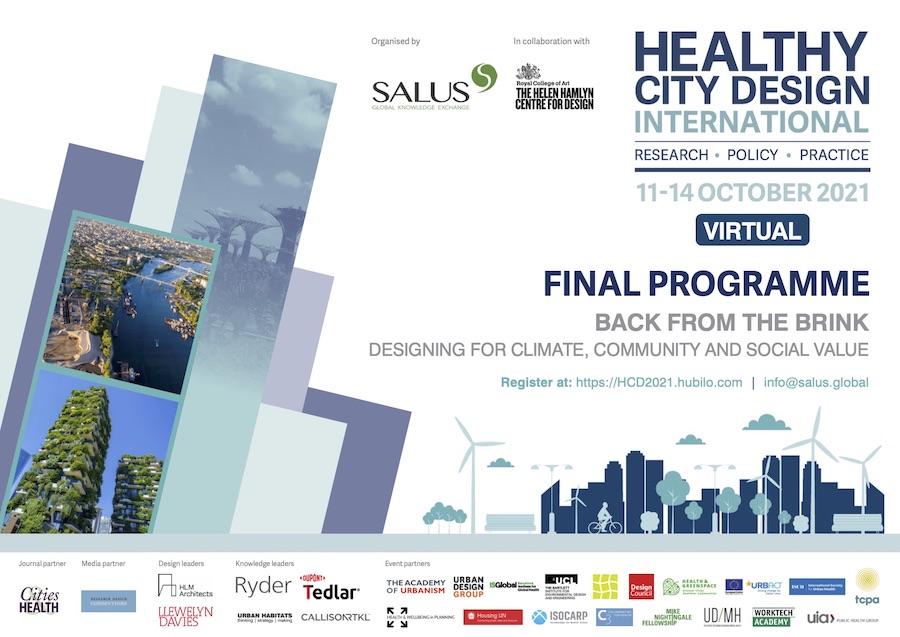 And underpinning the challenges of climate and community in cities is the idea of social value – that not all value can be measured with market metrics. Social value addresses the wider social, environmental and economic benefits of any project in relation to society.
It's for these reasons that the main plenary theme for this year's HCD 2021 Congress is: 'Back from the brink: Designing for climate, community and social value'.
We're excited to reveal the Final Programme and thrilled by the opportunity to extend access – both through remote delivery and at extremely attractive prices – to world-leading research, practice and policy thinking in designing healthy and sustainable cities and communities, at a time when it is needed more than ever before.
New ideas, practice and research
HCD 2021 features four days of streams, providing attendees with access to more than 100 talks, workshops and panel discussions, and 200 speakers from all over the world. Sessions will be 'live' but available 'on demand' as recordings for 30 days within the virtual event site. The Congress will also feature a poster + video gallery of innovative research and project presentations, a knowledge space of exhibitors and event partners – as well as the ability for attendees to network via live chat and messaging, and 1-2-1 and group video meetings.
For details about online registration and a range of ticket types for 4-day and 1-day attendance at the virtual congress, please see page 16 of the Preliminary Programme and book your place via the virtual event site. Special discounts are available for group bookings.* For knowledge space and sponsorship opportunities, contact Marc Sansom at marc@salus.global.
We look forward to welcoming you to the virtual congress in the week 11-14 October, and your contribution to the critical exchange of knowledge as public health, urban design and built environment professionals navigate the twin existential crises of planetary health and a global pandemic to bring us back from the brink.
* Members of our event partners, listed on the front and back covers of the Final Programme, are entitled to a 20% discount on four-day tickets. Please apply for your discount code at info@salus.global or contact the event partner direct. Please note that a discount code may only be used once by the same user.